Welcome to Griffin Falls Camp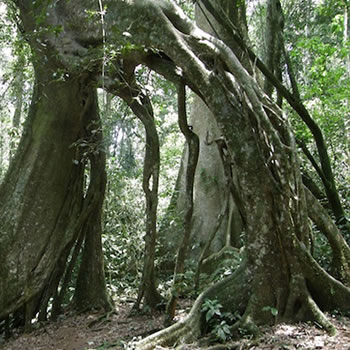 Griffin Falls Camp also known as Mabira Forest Camp is on the edge of a vast trail system in beautiful Mabira Forest. After a beautiful 30 minute walk through pristine rain forest, you reach the breathtaking Griffin Falls. Another hour up the trail and you can reach Namusa Hill for an overnight experience, or just a longer hike.
No matter what your interests are, you'll never run out of ways to enjoy the beautiful forest. Griffin Falls Camp is conveniently located just 10 km off the highway between Kampala and Jinja. After an amazing experience in the forest, you can feel good about where your money ends up because all the profits from Griffin Falls Camp are put into sustainable development projects in the villages in and around Mabira Forest.
The Griffin Falls Camp is owned by the
Mabira Forest Integrated Community Organisation (MAFICO)
, a Non-Governmental Organisation (NGO). The mission of MAFICO is to improve the livelihoods and welfare of the local communities by conserving the environment through development. MAFICO encourages stewardship of the forest by its surrounding communities through environmental, networking and mobilization of 30 Community Based Organisation and fundraising for sustainable and beneficial community projects. The proceeds from the camp are ploughed back to community projects like tree planting, HIV/AIDS positive living groups, water and sanitation, Education among others